Study, Work & Live in Canada! Morgan Consultancy Services Invites You to Meet with Representatives of Fraser International College | Wednesday, September 28th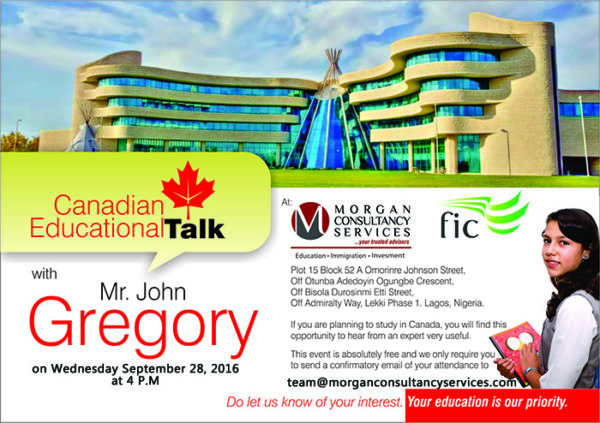 Are you looking to study and get a top class degree in an exciting Canadian university? Are you looking to increase your employability and gain quality work experience during and after your studies? And on top of all this, do you want to live in a vibrant, safe and exciting Canadian city? Well, look no further!
Morgan Global Access Consultants Limited (alias Morgan Consultancy Services) invites you to meet a Canadian education professional and representative of Fraser International College Canada, John Gregory at a FREE seminar coming up on Wednesday, 28th of September 2016 at 4pm.
Requirements:Simply come along with your WAEC results (Undergraduate admission) or your certificate and other academic credentials (for postgraduate admission). You have the opportunity to direct every question you have about Canadian and international admission at experts who can furnish you with accurate answers and customized advice.
With Morgan Global Access Consultants Limited you can:
Complete your bachelor's in 4 years with WAEC & NECO
Avoid taking English Language Tests (only minimum C6 in English WAEC/NECO required)
Secure admission into Fraser International College which offers pathway programs into second year at Simon Fraser University, amongst a host of other universities
Study on campus from day one regardless of entry point
Have a single student visa to cover the entire study period
Work whilst you study with Co-Op Programs and Part-Time Work during your studies
Work in Canada after finishing your studies
Secure high school, college, undergraduate and post graduate admissions.
To attend, simply call or text your name and email address: 08080992904; 08181744426
The details for the seminar are as follows:
Date: Wednesday, September 28th, 2016.
Time: 4PM
Venue: Morgan Consultancy Services, Plot 15b Omorinre Johnson Street, Off Otunba Adedoyin Ogungbe Crescent, Lekki Phase 1, Lagos.